September 13th, 2016/Jereh Group and Honeywell Process Solutions signed a strategic cooperation MOU in Beijing. The two sides will cooperate jointly on a global basis for oil and gas EPC projects and have capable business alliances for a stronger presence in the industry. Mr. Ian He, CEO of Jereh Group and Mr. Chen Yan, VP & GM of Honeywell Process Solutions, Greater China attended and signed the MOU.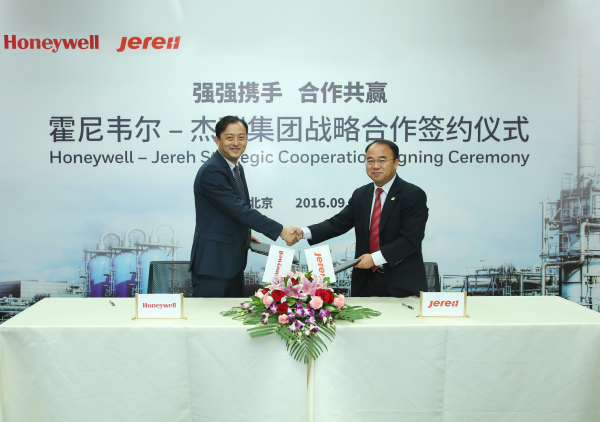 Mr. Ian He (Right) and Mr. Chen Yan (Left) Signed the MOU
According to the MOU, working scope will vary by project. Honeywell may provide MAC (Main Automation Contractor) solutions for joint projects incorporating technology solutions and core components, whereas Jereh may utilize its global sales network, EPC capabilities and fabrication experience to provide qualified project to meet local standards.

Honeywell is a Fortune 100 diversified technology and manufacturing leader, serving customers worldwide with aerospace products and services; control technologies for buildings, homes, and industry; turbochargers; and performance materials. And Honeywell Process Solutions is a pioneer in automation control, instrumentation and services for the oil and gas; refining; pulp and paper; industrial power generation; chemicals and petrochemicals; biofuels; life sciences; and metals, minerals and mining industries.

As a global project investor and contractor, Jereh Group provides integrated solutions of investment, financing and contracting flexibly and efficiently in the areas of oil & gas, power and environment. As of now, Jereh has served customers in 63 countries with well-developed global network, strong EPC capabilities and technical services, reliability of equipment manufacturing as well as complete trade and logistics system. There have been project cooperation in key countries such as Middle East, West Africa, Asia, Russia and Kazakhstan to boost energy development and utilization.

"The cooperation will make full use of each advantages and resources. We will work together to provide advanced engineering solutions for customers around the world, while achieving common benefits of end-user, Jereh and Honeywell. " said Ian He, CEO of Jereh Group.