Jereh Environment and Irish MicroGen Biotech Signed Strategic Cooperation Agreement
July 4,2016/Jereh Environmental Management Group (Jereh EMG) signed strategic cooperation agreement with the Irish MicroGen Biotech corporation on bioremediation technology in Yantai, China.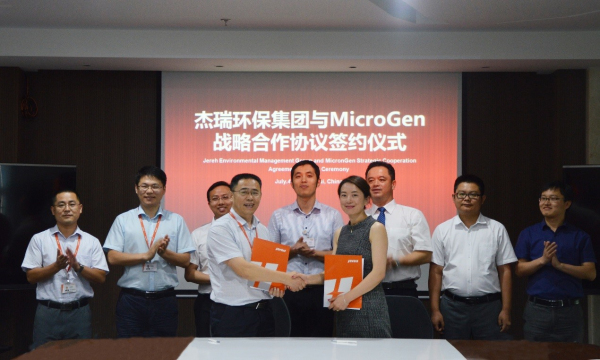 Strategic Agreement Signing Ceremony
(Left: Pixue Wang, Chairman of Jereh EMG; Right Xuemei Germaine, CEO of MicroGen)
As an Irish biotech company, MicroGen Biotech utilize patented isolation and high-throughput screening methods to isolate functional, high-performance microbiomes for application of environmental remediation. The products and technologies have been successfully applied in both Ireland and China.
Mr. Pixue Wang, the chairman of Jereh EMG thinks highly of this cooperation. "MicroGen has a large database of microbes for degrading/immobilising a range of targeted pollutants from soil and for promoting plant growth. This cooperation will further enrich Jereh's solutions in environmental technology and help customers reduce environmental protection cost."
Since 2005 Jereh EMG is committed to delivering integrated environmental solutions and engineering services in areas of oil and gas, and municipal waste management. At present, Jereh EMG has worked well with PetroChina, Sinopec and CNOOC on oily waste treatment as well as the soil remediation. In overseas market, Jereh mechanical cleaning of oil storage tank and oily waste treatment are also recognized by clients.
The concept of "technology driven, value added" drives the way Jereh develops its business and supports the long-term sustainable development. Jereh will partner with more outstanding companies to promote the new environmental technologies and services in the global market, and to realize the utilization of energy and resources in an eco- friendly and efficient way.