The new concept combined with Internet + will bring changes to the Chinese gas stations market?
May 11, 2016, Jereh Natural Gas presented its full type of gas fuelling equipment as well as "Full Life Cycle Services," at the 17th China International NGV and Gas Station Equipment Exhibition in Beijing.
Full Life Cycle Services
"Along with China's national gas price reform, there will be a new round of gas station construction this year. It will not be a simple equipment supply, but a complete EPC project including full life cycle services", Yang Zhiguo, G.M.of Jereh Natural Gas says. As one of China's leading natural gas engineering company, Jereh has constructed more than 300 gas fueling stations so far.
At Jereh, we can offer every fueling project full life cycle or customized services, covering from design and planning, equipment supply, installation and after-sales services.
"At the design and planning stage, we not only provide owners with the investment budget and construction procedures guidance, our engineers will go to site and give professional advice for site and model selection." Yang Zhiguo explained, "When the project is confirmed, Jereh will provide files to the required institute, making sure the integrity of information among owners, design institutes and Jereh team. For equipment supply, Jereh owns more than 3,600 quality suppliers around the world and mature capacity of customized design, quality control as well as mandatory testing. After the equipment delivery, we also offer installation services, ensuring the high quality of construction in the shortest construction period. Additionally, equipment sealing test and 72 hours running at station are available to help owners quickly learn how to operate and manage the station. "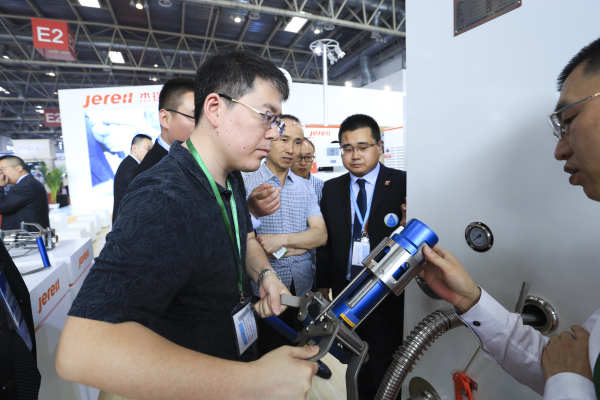 Value-Added Services
This year, it is noted that many companies focus on value added services to display difference in value with Internet+ concepts, such as "big data", "remote monitoring" and others.
Jereh engineers show their operation management platform that can conduct real-time data monitoring via phones, IPAD or laptops, and set separate permission limit to improve operation efficiency and reduce cost.
"At present, the background of small number of fueling stations and unbalanced distribution calls for more industry cooperation." An expert said at the NGV Forum, "the emergence of 'Internet +' operation mode will lay a good foundation to build a multi-regional, multi-brand joint marketing network and expand downstream customer base, being the basic model for future stations' operation. "