Jereh Sludge Oil Recovery Unit Delivered for Indonesian Project
Yantai/May 18,2016/Jereh Environmental Protection Technology Co., Ltd., subsidiary of Jereh Group, today announced the self-developed SOR (Sludge Oil Recovery)unit was ready for delivery to the Indonesian clients-PBAS, a member of Pertamina. The unit will serve one environmental project of refinery plant in Indonesia.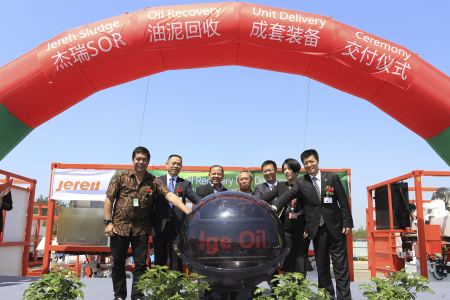 Jereh SOR unit Delivery Ceremony for Indonesian Project
Jereh environmental business started in 2005 and is constantly providing competitive and integrated solutions, equipment and technology for oily waste treatment & reinjection, municipal environment management as well as mechanical oil tank cleaning and sludge recovery. The procurement of the set of equipment will help the local oily waste treatment and environmental protection work, supporting the sustainable development of environment and projects.
In the area of Indonesia, the oil sludge is manually cleaned and then injected directly into the pit, causing secondary pollution of surrounding environment. Compared with the traditional way, Jereh adopts a new model of sludge treatment to improve efficiency, which can shorten the cleaning cycle by up to 50% while recovering up to 95% of hydrocarbon. Operation Director of PBAS Mr. Edy Prabowo says: "The success of sludge processing lies on the selection of appropriate technology as well as selective work system, experts and equipment that are suitable and appropriate. We believe the visit and cooperation between PBAS and Jereh Group will provide a positive influence for the business development of both sides."
"The concept of "technology driven, value added" drives the way we develop our business. So far, more than 300 tanks (totally 5 million cubic meters) have been serviced for customers from Southeast Asia, Middle East and NOCs. From our experiences in Indonesia, we aim to cooperate more closely with customers and develop more efficient products and technologies to help challenge traditional concepts." says Pixue Wang, President of Jereh Environmental.