Jereh Fueling Stations Sold to Uzbekistan, Advancing Global Cooperation on Production Capacity
April 21, 2016/ Two sets of standard CNG station designed and manufactured by Jereh departure today from Yantai to Uzbekistan, and is expected to arrive in mid-May. Its significance is that Chinese products break long-term monopoly by Korean gas equipment in Uzbekistan, further promote the global cooperation on production capacity between China and Uzbekistan, and accelerate the implementation of "Belt and Road" initiative strategy.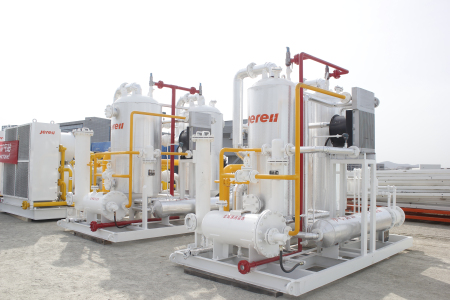 "Uzbekistan is geographically the center of Central Asia - China gas pipeline with the natural gas reserves up to 1.1 trillion cubic meters. By now, several sets of Jereh cementing units and accessories have been widely used for the Ukrainian oil and gas development. The fact that more than 80% Ukrainian cars are fueled by natural gas brings huge market need of natural gas treatment facilities and fueling stations ", said group vice president Mr. Fan Zhiqiang, " the two CNG stations include modules of regulator, metering, dehydration, compressor and fueling station, all of which are tailored based on customer's requirements, ensuring the smooth running of whole unit even in extreme cases under -20 ℃ or 50 ℃."
It is reported that the natural gas equipment market is mainly occupied by South Korean companies because of the earlier entering time. And Chinese companies are expected to break this pattern. Jereh as a leading oil and gas company, is also actively developing more opportunies, such as its gas to liquids (GTL) solution is launched according to the fact of rich gas resources and less crude oil to ease the local shortage of gasoline.

As an important country of "Belt and Road" strategic map, Uzbekistan and China have closed relationship in terms of resource composition, industrial structure as well as industrial and agricultural products. As of now, high-end and cost effective Chinese oil and gas equipment are gradually recognized by many large Uzbekistan companies and individuals owners. Jereh's entrance will undoubtedly bring more competition and options for cooperation.