Successful Operation of Jereh Continuous Sand Conveying System in Daqing Oilfield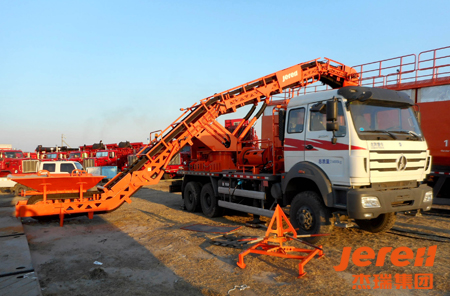 Successful Operation of Jereh Continuous Sand Conveying System in Daqing Oilfield
Jereh self-developed continuous sand conveying trailer and sand king together finished the onsite operation in Daqing oilfield, offering a higher efficient solution for sand conveying during fracturing.
The most remarkable advantage of Jereh continuous sand conveying trailer is that it adopted belt instead of hoist for sand conveying with the max. height up to 7m. It can also work at night with no need of manual climbing. It better meets the need of high efficiency, large-scale and continuous sand adding in modern oil and gas factory exploration. For the sand king, it reduces the number of sand silo and operators as well as workload. Only 4 sand kings are needed on site to add different types of proppants.
At Jereh, it is dedicated to providing customized equipment and services. On Oct, 2013, Jereh released "Small Well Site, Great Frac Job" new concept fracturing solution, targeting on maximizing operation under complicated geological condition. And "Global First" Jereh continuous sand conveying trailer was specifically designed for Daqing oilfield fracturing operation and took only 3 months for delivery.