Jereh New Membrane Nitrogen Generator Delivered for Offshore Operation
On Nov.9th, Jereh self-developed new Membrane Nitrogen Generator Unit (DFQ900-1M) was delivered for CNOOC offshore operation, showcasing Jereh's capacity towards offshore equipment manufacturing. Its success is also a milestone in its global business development, both onshore and offshore.
The unit is offshore-specific with BV accreditation. The nitrogen displacement is 900Nm³ / h at purities of over 97%. For the configuration, two air compressors are equipped to work individually or simultaneously according to operation requirements; two air purification systems with one standby to ensure the continuity of operation. Furthermore, all the instrument connections are configured with ball valves and valve block, which facilitates quick change of damaged part and high working efficiency.
Mr. Cui Qili, Jereh product R&D manager, said, "There have been considerate solutions to every link of the nitrogen generating process. Considering the highly corrosive working condition, we adopt specific stainless steel to wrap the membrane module and fill with thermal insulation materials, so that high-standard offshore operation is guaranteed".
At Jereh, focusing on customers' challenges, providing competitive equipment & engineering services and creating long-term value for customers are always the driving force of its sustainable development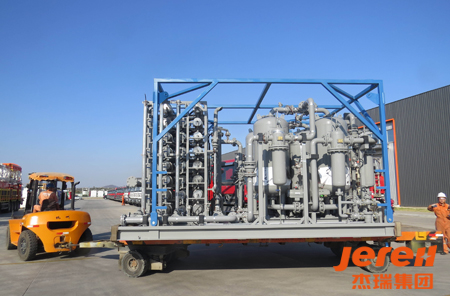 Jereh New Membrane Nitrogen Generator Delivered for Offshore Operation