Jereh Pushing Ahead the Tight Oil Well Exploration in China
On August 5th, Jereh Group announced that it succeeded in the fracturing operation of Well JHW018 for CNPC Xibu Drilling Engineering Company Limited (XDEC) at Changji Oilfield, Karamay. Three records are set in the operation: 23 stages fracturing– the most in horizontal well openhole packer; one tenth of an inch – the smallest range by segmentation tools; and 166.8 cubic meters – the largest single-stage sand filling capacity.
A whole set of Jereh equipment was put into the 12-days, 23-staged fracturing operation, including 12 Jereh 2500hhp fracturing units, Jereh continuously sand conveying unit and 2 Jereh simultaneous batch mixers with discharge flowrate at 10m³/min (2641gpm). And totally 6.4 million gal of fluid and 449,092 gal of proppant were injected during the operation.
Compared to the previous workflow of mixing in advance and then transporting to the site, this new on site liquid supplying method is more preferable, with reduced transportation cost and the enhanced liquid quality. Moreover, more precise fluid mixing as required is achieved to reduce the environmental pollution by leftover. Other equipment also include: 130bbl sand blender, data van, nitrogen pumper, as well as manifold truck. A brand new milestone is set by breaking up Schlumberger's monopoly in integrated technology services.
Worth mentioning, all the above equipment is from Jereh's "small well site, great frac job"new concept fracturing solution which is targeted on operation under complicated geological structure. And it is expected that this successful operation will boost more exploration of tight oil in China.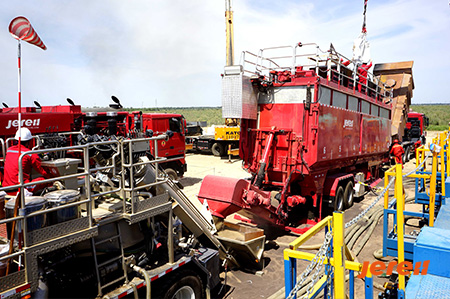 Jereh continuously sand conveying unit on site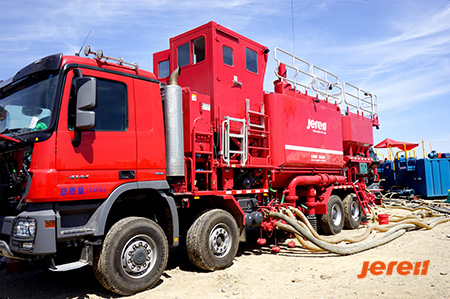 Jereh simultaneous batch mixers with discharge flowrate at 10m³/min on site