Jereh New LNG Plant Running for Chinese Shale Gas Commercialization
On July 31st, Jereh Group (SZ 002353) announced its LNG plant project has started in Yibin city, Sichuan, China with production capacity of 2.47 MMSCFD. By now, it has finished the services of water, electricity and land leveling, and is expected to produce LNG by the end of 2014.
The agreement was signed on June 6th with Sichuan Sentai Energy Investment Corporation to promote local shale gas liquefaction and commercialization "Backed by the rich reserves and government favorable policies for Sichuan shale gas exploitation, the expected high gas production will bring lower price advantage and larger economic benefits." said Sentai Energy Corp.
A milestone follows the breakthrough in Chinese shale gas commercialization. On July 9th, Jereh signed the strategic cooperation agreement with Sichuan Sentai Energy Investment Corporation to provide integrated shale gas solutions-not only LNG plant at capacity of 2.47 MMSCFD, Jereh will also take over the services covering gas compression, transportation, and terminal fueling.
As a world leading oil and gas equipment manufacturer and service provider, , Jereh expanded its business in natural gas engineering segment as early as 2004 and now establishes a full business chain from R&D, manufacturing to engineering services of gas transportation, processing, treatment and LNG/CNG fueling. To let the world enjoy more clean energy, Jereh will be continually dedicated to providing the most competitive and integrated solutions for global partners.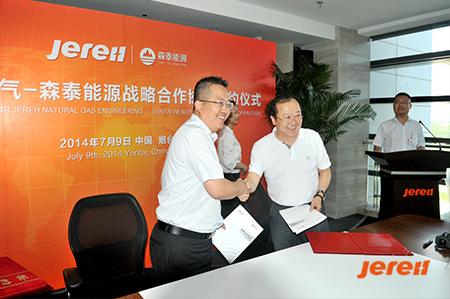 LNG production contract with Sichuan Sentai Energy Investment Corporation